Ball valves are great flow on/off switches or "shut off valves".  While their flow control leaves a lot to be desired, nothing is more dependable as a shut off valve than a ball valve.  These valves are among the most common found in household plumbing systems as their strength and dependability are greatly desired by homeowners.
When closed (if lever handle, lever pointed perpendicular to flow) the ball inside of the valve is turned so the passing hole faces the valve sides.  No fluids can pass through the ball mechanism and flow is completely stopped.  The seal around ball valves is very secure so leakage is a minor concern.  These valves are very similar to butterfly valves, but are generally considered to be a stronger design and holds to to more pressure.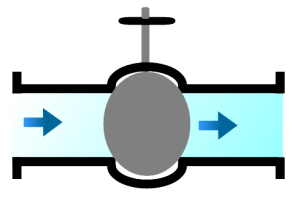 Ball valves are quick shut off valves.  A quarter turn of the handle and the system is at a standstill.  This feature is great for emergency shut off valves or when the flow is either fully open or fully closed, however it can be problematic if pipe hammers are a concern.  This can be counteracted by slowly turning the handle or when used in low pressure systems.