If you read our post about cutting PVC, you know that making straight cuts is pivotal to making secure plumbing joints.  That's why every DIYer or pro plumber needs to have a good way to slice their pipe!  We have created a comprehensive guide below to outline the best PVC pipe cutters on the market and how they will affect your work.
For those uninterested in reading a wall of text I will get right to the point:
Recommended professional grade PVC pipe cutters:
Ridgid RC-2375 Ratchet Action 2″ Pipe Cutter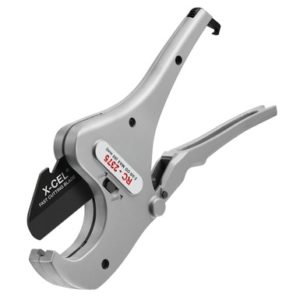 (via amazon.com)
Recommended "budget buy" PVC pipe cutters: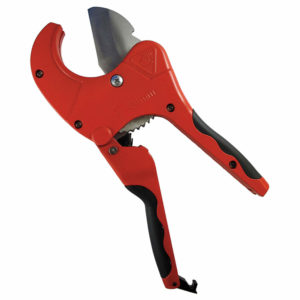 Superior Tool 37116 One Handed PVC Cutter

(via amazon.com)
The best way to cut PVC pipe
PVC pipe is so versatile that you may need several different types of tools to make proper cuts.  Each technique has it's own advantages and disadvantages based on the situation.  For example, pipe cutters are fantastic when building projects with new PVC pipe.  But if used on existing pipe, you run the risk of of shattering the pipe which could end up causing more problems than it solves.
In this situation, you are better off using a hand saw.  Both of these options work well for new or used pipe but can be time consuming when you need to make multiple cuts quickly like building a set of PVC furniture.  You could use the ratchet pipe cutters… or you could make quick work of it with a power saw.  (Just be safe and use proper safety equipment.)
By far, the easiest way to cut PVC pipe at home or on the job site (without power tools)  is with ratcheting PVC pipe cutters.  End of story.  If you can use them, do it.  Most come spring loaded so the blade pops back out after cutting so you are ready for the next cut.  Insert your pipe and squeeze the handle, release, squeeze the handle, release, squeeze the handle, release and you are all done.  You will have a smooth, clean cut without any burs to clean up.  Unless you are putting your fingers under the blade, which would be tough to accidentally do, it is also one of the safest ways to cut pipe.  It's even safe enough for children to use.
What you should look for in a pair of ratcheting PVC cutters is an aluminum construction.  As you well know, rust can be a major problem for an industry/hobby that revolves around the movement of water.  I always recommend staying away from steel tools when possible.  Unfortunately, all of the pipe cutter blades are going to be hardened steel which will rust over time.  But as long as the handles and main ratcheting mechanism are intact you can always replace the blades when they are too dull to provide you with effective cuts.
No tool is perfect and ratcheting PVC pipe cutters are no exception.  The biggest problem with these amazing tools is the cutting mechanics.  Instead of using a saw-like cut, these tools act more closely to using a kitchen knife on butter – really hard butter.  These are not scissors and the cutting action is not completed by a shear force.  There is only one blade on these tools and the lower jaw is simply a pipe holder.  The action of the ratchet pushes the blade down with great force (hence the ratchet) until it slices through the pipe.  This works fantastically on newer, fresh PVC pipe but can really cause problems with older, brittle pipe that cannot withstand the compression causing the pipe to shatter.  The same problem arises when trying to cut a very small portion of pipe off the end (if you measured incorrectly on the first go around) – the ends just don't have the structural capacity to withstand the compressive forces caused by the tool and can result in crushing or breaking the pipe instead of cutting.
Another draw back with pipe cutters is pipe size limitations.  Most pipe cutters are limited to pipes sized 1 -1/2″ or less, though this varies from cutter to cutter.  Luckily, the vast majority of residential plumbing will fall into this range, making it an ideal choice for DIYers and residential construction jobs.  Anything much larger and your only option will be a hand saw.
There is a wide range of cutters available on the market and some are much better than others and you will see it in the price.  The lower quality cutters will have blades that wear out more quickly, rust and break the ratcheting mechanism.  The poor designs will require you to twist the cutter and the pipe simultaneously as you ratchet down the cutter to help aid in the slice.  What to buy completely depends on your personal preferences.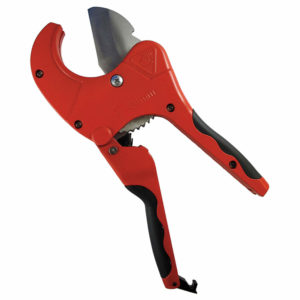 As far as recommending a value pair, I will have to go with Superior Tool 37116 One Handed PVC Cutter.  The only problem I had with this model was the screw securing the two handles came loose and fell out during a project.  It was lost and I had to replace it which was a minor inconvenience, but it still worked to finish the job.  The cushion handles are easy on the hands for multiple cuts and the body is made with aluminum.  The hardware is steel which may rust over time.  It is lightweight at only 1.1 lbs and has a stainless steel blade.  When the blade fails, however, you are better off tossing it and buying another.  If you are working a job where time is of the essence, you will need two just in case something breaks.  These are not buy-it-for-life.  The pricing on it is less than $30 and is the perfect entry-level cutter.
Check Prices (via amazon.com)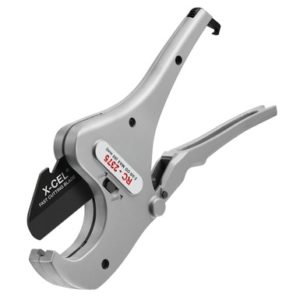 For the more advanced plumber or buy-it-for-lifer, I have to recommend something with a little more grit.  The Ridgid 30088 Large Diameter Ratchet Cutter wins this award.  Not only does it come with a life-time warranty but is built with high grade materials including aluminum handles.  The greatest characteristic of these cutters is their ability to handle pipe as large as 2 – 3/8″ which will cover the vast majority of your plumbing and irrigation needs.  The weight comes in a little heavier at 1.6 lbs.  The blade is easily replaceable with a quick latch release system.  If you want a tool that can be passed down to your children, this is the one to get.  You just need to be comfortable with the hefty price tag.
Check Prices (via amazon.com)
Both choices will cut the majority of PVC pipe you need to get done and offer superior craftsmanship and operation to their comparable competition.  You cannot go wrong either way and is an absolute MUST for any plumber worth his or her salt.
But What If Pipe Cutters Are Not A Viable Option?
Hack saw – Hack saws are great all-around saws for plumbers.  They can cut through pretty much anything except wood.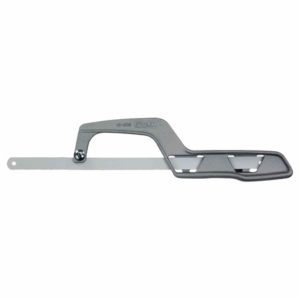 The tiny teeth make it ideal for grinding away at PVC or metallic materials but will probably burn lumber before it actually cuts it.  Hack saws are an absolute must for plumbers and DIYers, as a bare minimum tool for cutting PVC.  The cuts are not going to come out straight and you will have plenty of burs to deal with.  Not to mention it can get quite tiring very fast if you need to handle a lot of cuts.  But sometimes it is your only option, especially when dealing with old brittle pipes.  You can find the regular sized saws at any hardware store.  But I have to definitely recommend the mini hack saws that allow you to get into extremely small spaces.  These little saws have saved me more than once.  Check out Amazon reviews for the Stanley 20-807 10-Inch Mini-Hack Light-Duty Utility Saw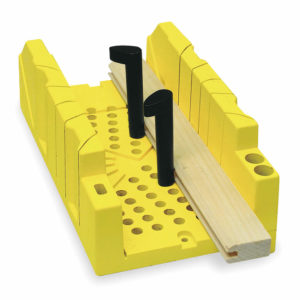 Miter box saw – If you do a lot of woodworking with hand tools, you may have one of these laying around in the garage or wood shop.  These have been used for generations (prior to power tools) for making perfectly angled cuts.  It's a rarity that you will ever need an angled cut for PVC pipe unless you are building a non-plumbing project, but the 90 degree angle cuts always come out straight.  This should really only be used if precision cuts are required.  If you do have one laying around, make sure to save your wood saw's teeth and replace it temporarily with a hack saw.
Power tools – If you are in dire need or need a specialty cut that cannot be made on a hand miter box, you can use power tools.  However, this should only be done as a last resort and proper safety precautions need to be taken.  PVC, when cut, produces tiny particles that can be an inhalation hazard.  Always wear a mask and goggles.  Your best bet for making the specialty cuts is a table saw or even a drill press.  These two will make precise cuts and holes needed for odd-jobs.  Alternatively, you could use a reciprocating, jig or band saw but it will result in jagged, curved cuts.  Of those three I am more inclined to use a reciprocating saw and only for demo work.
Final Thoughts
Unless you are specifically cutting tubing, do NOT fall for the trap of purchasing non-ratcheting pipe cutters.  They work fine for softer materials like polyethylene tubing but should not be used on hard PVC.  Unless you are the Hulk, you will need the ratchet mechanism to power through pipe.  No one wants to hear it, but you really should have multiple tools for cutting PVC pipe.  At the bare minimum, I would suggest PVC cutters and a hack saw.  A hack saw will give you more versatility but is a much greater hassle and gives you less-than-ideal results.  Do yourself a favor and buy a pair of PVC cutters to add to your toolbox.
One under-rated problem most PVC DIYers have is solvent welding.  After you cut your pipe, make sure you know how to properly glue it up so it's a one-time fix.  Check out our guide here: PVC Gluing / Solvent Welding
If you have a different opinion on the best PVC pipe cutters, please leave your opinion in the comments section.