Check valves are one of the few valves not designed to stop or reduce flow.  These valves simulate valves found in the human heart and cardiovascular system.  Check valves allow flow in one direction only.  They are the most basic components of back flow preventers which may be composed of numerous check valves to ensure water contamination does not enter public drinking water systems.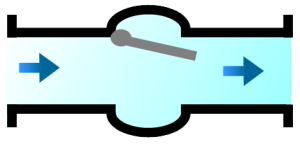 Not only are check valves prevalent in commercial and industrial applications, but they might be the most common type of valve found in your household.  Check valves are used extensively in automobiles, appliances and other small plumbing systems.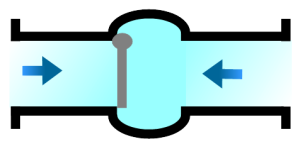 There are many, many different variations of check valves.  For simplicity's sake, I have diagrammed a simple lever check valve to easily illustrate the concept.  The flap opens when flow goes in one direction and closes when the flow changes to prevent a fluid from re-entering its origin.  Typically this is required when clean water or any fluid is entering an area of dirty or contaminated fluids.
While the different variations of these valves change the characteristics, generally speaking these are not very strong valves.  The emphasis is preventing flow changes so in higher pressure systems you will find a system of check valves to achieve the effectiveness required.  Though multiple check valves are not necessarily required for strength as much as they are for safety precautions.