The Cozy Coupe Rebuild – Jaguars Edition
In typical PVC Guy fashion, instead of doing real work, I was wondering the internet looking at cool stuff people have built.  I stumbled upon what I thought was a one-off rehab project where a handy lady took an old, beaten up Fisher Price Cozy Coupe and rebuilt it into a really cool car for her kids.  I decided to Google it and found that she wasn't there first, in fact there was a whole community of people that decided to pinch pennies (or pay more than the cost of a new one) and refurbished old toys into fun and exciting new projects!  So, here is the PVC Guy Cozy Coupe Rebuild!
As luck would have it, on my way to work three days later, there was an old Cozy Coupe on the side of the road set out for trash pick up.  I drove past it at first and then I remembered about the online posts I saw about the Cozy Coupe rebuilds.  I did have a newborn son and while he was a good ways out from being able to play with a toy this "complex" I found the opportunity irresistible.  I pulled over and threw my treasure into the back of the truck, and what follows is my journey down the Crazy Coupe rebuild road.
To be honest, I never actually thought I would post this to PVCGuy.com until I took everything apart thought to myself this might actually work!  I was a bit skeptical but in the end, it was worth every second I put into it.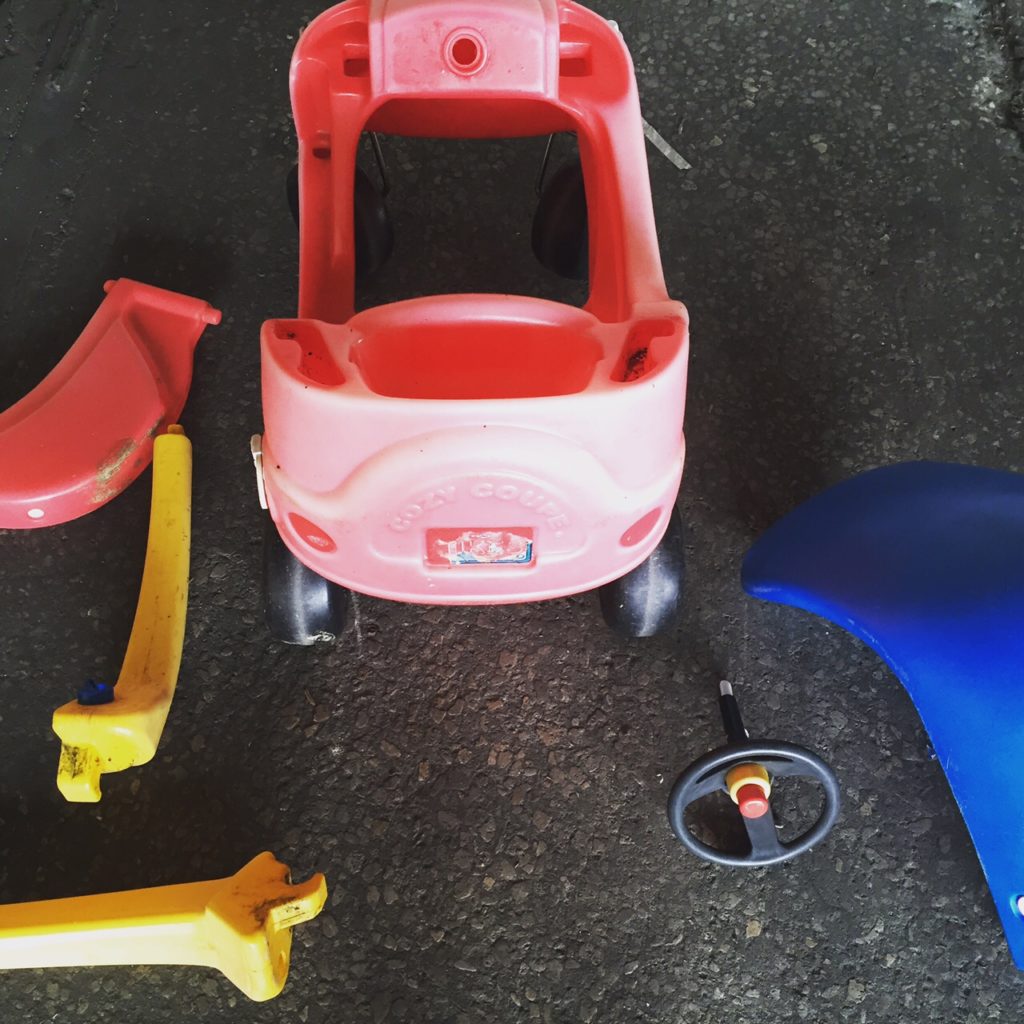 I took everything apart that I could, sparing the moving parts like the steering wheel, horn and wheels.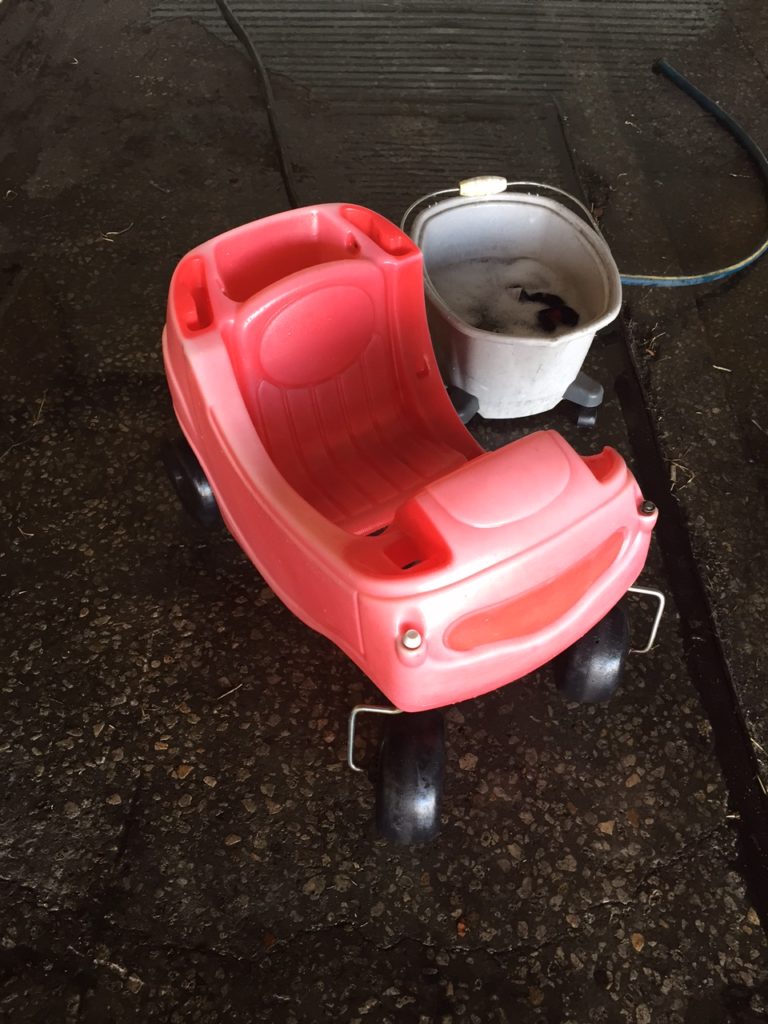 Next I washed everything down with dish detergent to remove any oils or sediment that might inhibit paint adhesion. and then gave everything a light sanding with 120 grit sandpaper.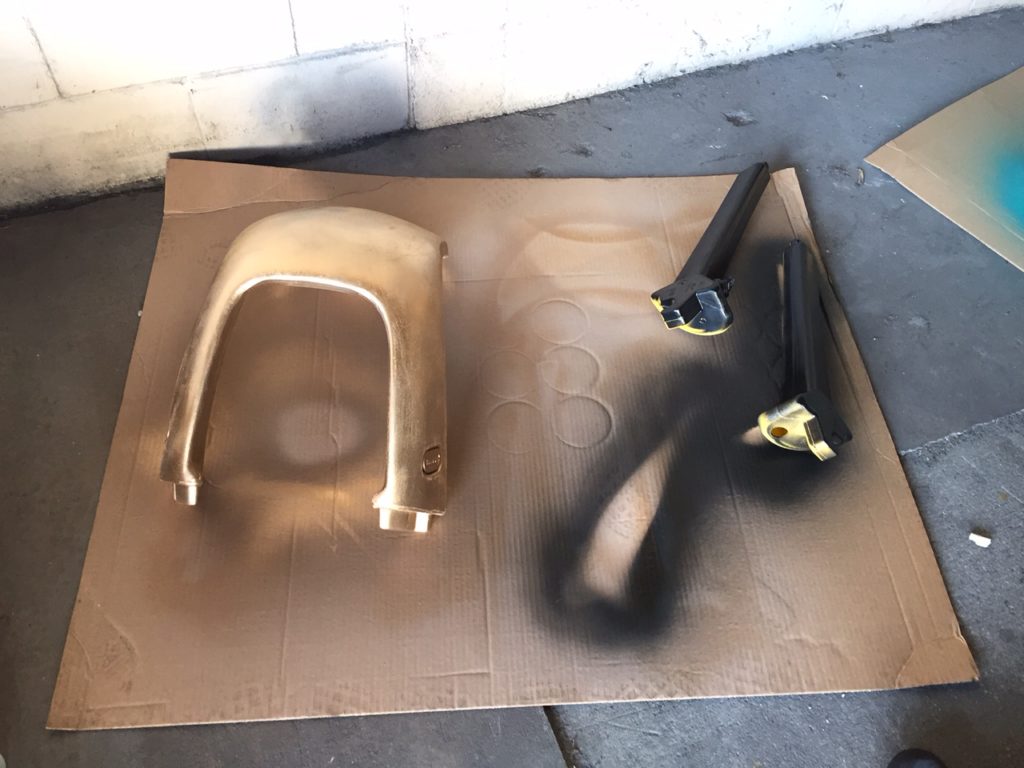 I should have taken a picture, but I primed all plastic parts with a plastic surface primer.  It was a really tough decision on what theme to make it, I had a lot of really great ideas.  I ended up deciding to make it a University of Florida Gators theme (my Alma Mater) but when I got to the hardware store, there was no passing orange and blue shades for plastic!  I went with the second best options of making it a Jacksonville Jaguars Cozy Coupe.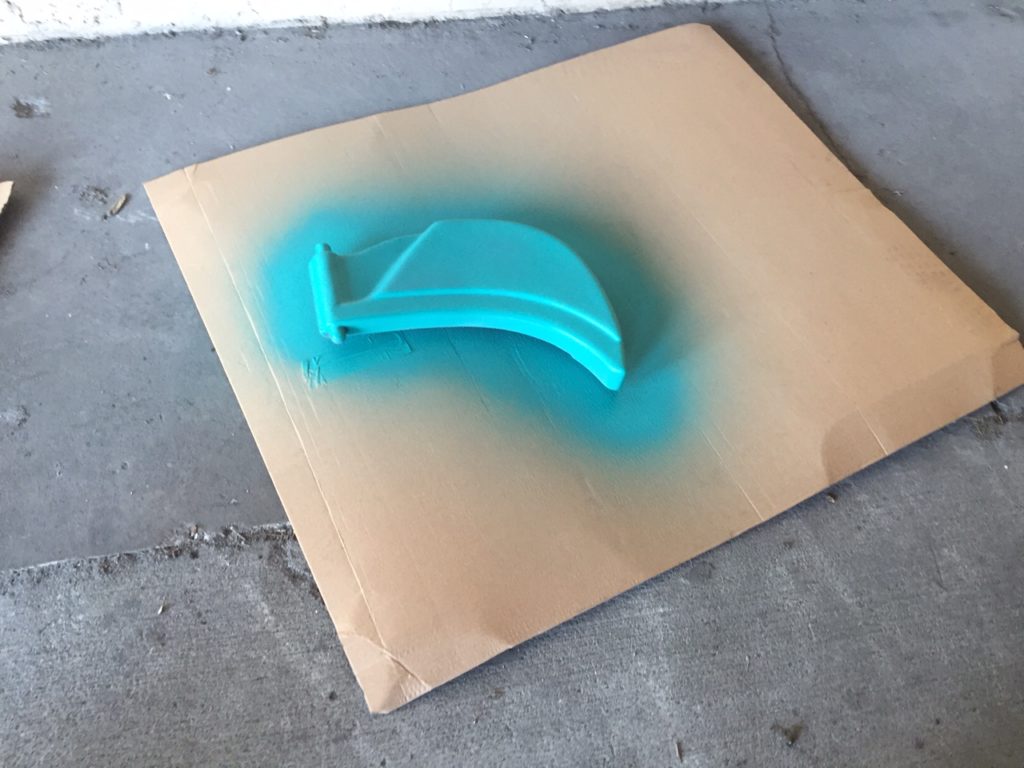 If you have never seen the Jacksonville Jaguars helmet, I highly suggest you check it out.  As a die hard fan, I must admit that I find it absolutely hideous.  BUT…  I bleed teal and black (with a hint of gold) so I had no option than to paint this helmet shaped vehicle in the same color scheme as the Jaguars' helmet.  I think to pretend there is some sort of deeper meaning to the Cozy Coupe acting like a protectionary force for my son but I just haven't been able to connect the dots.  Let me know if you come up with something significant, I've never been good at that stuff.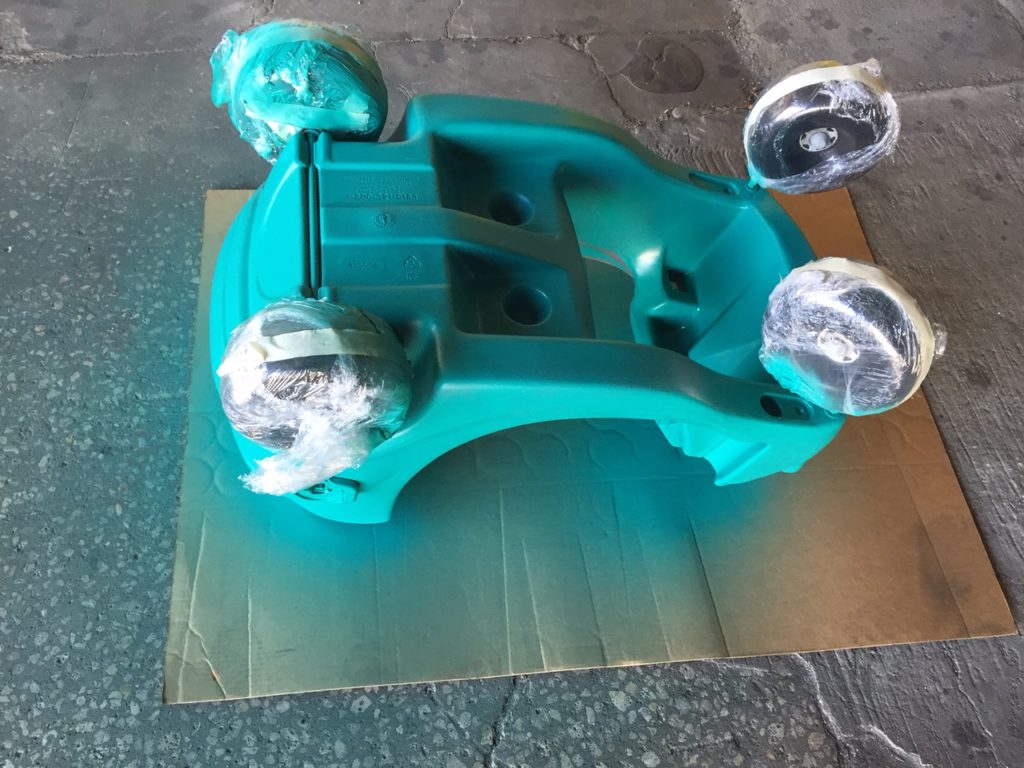 I found the best way to cover the wheels from being painted was using shrink wrap – the same stuff used to secure pallets.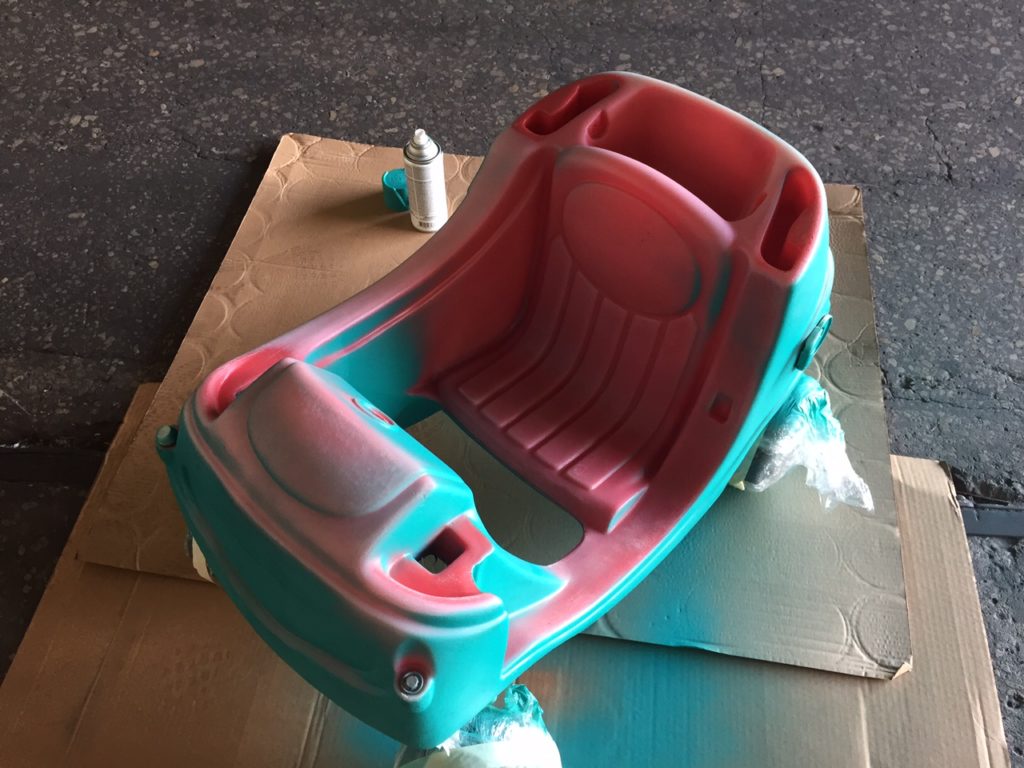 You can really see how faded the Cozy Coupe was when I got it in this picture.  The pink?  At one point that was a bold red.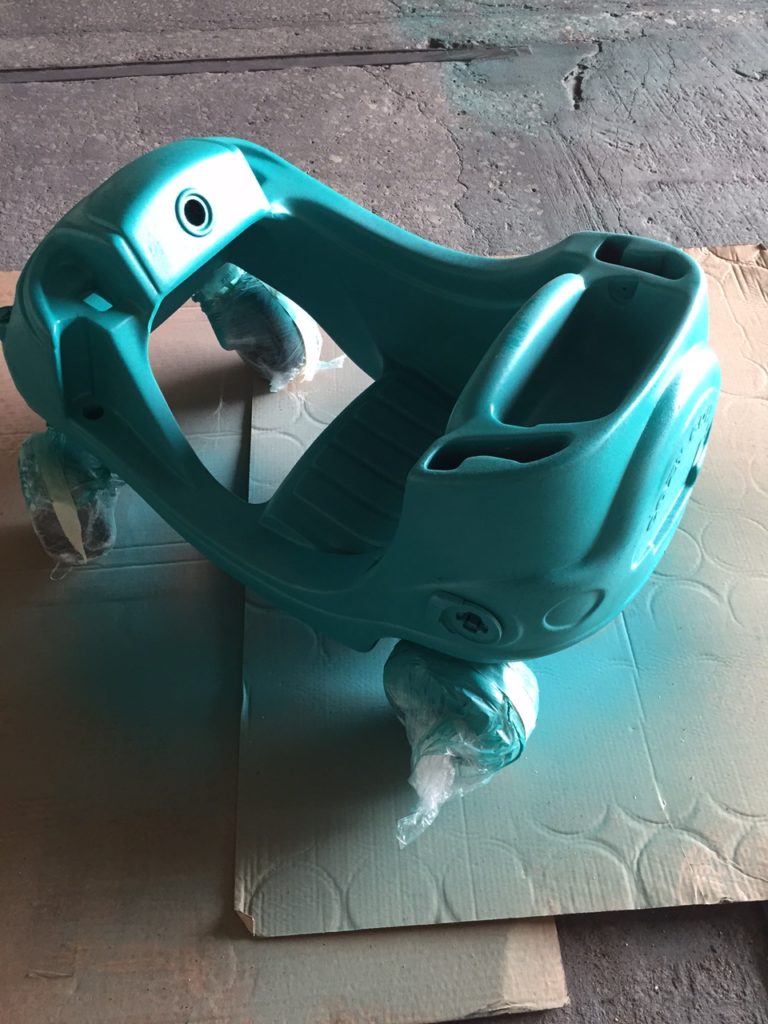 I was a bit disappointed there was no fuel cap when I picked it up, but what can you expect from roadside treasures?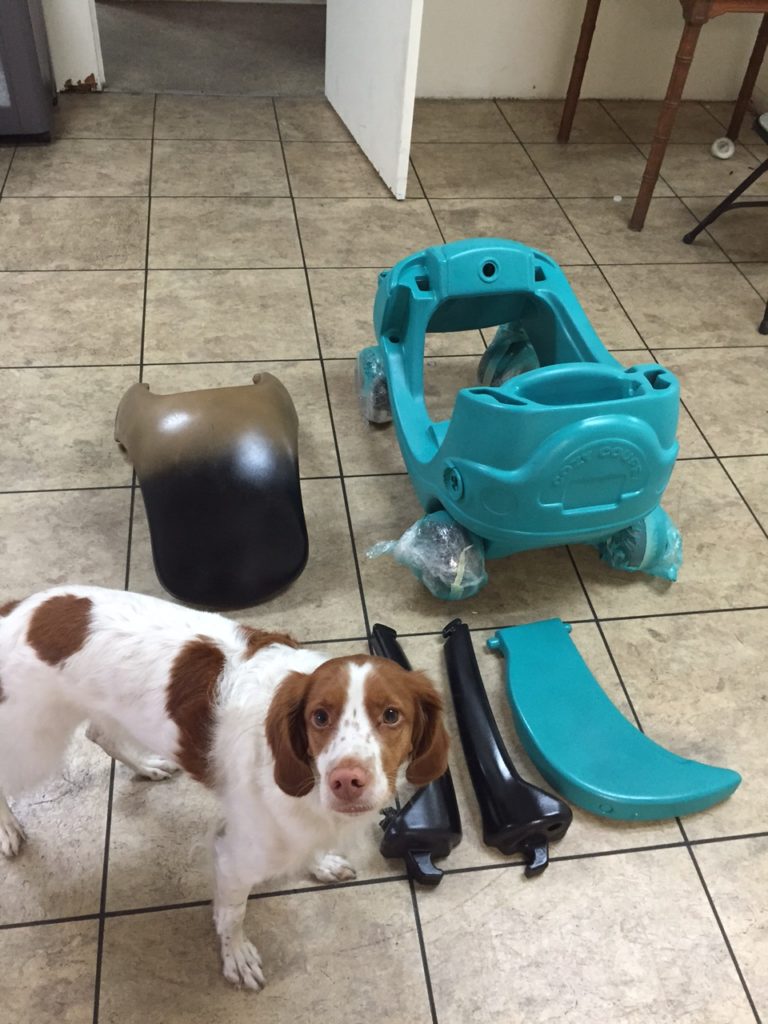 Here is Sam getting ready to help with assembly.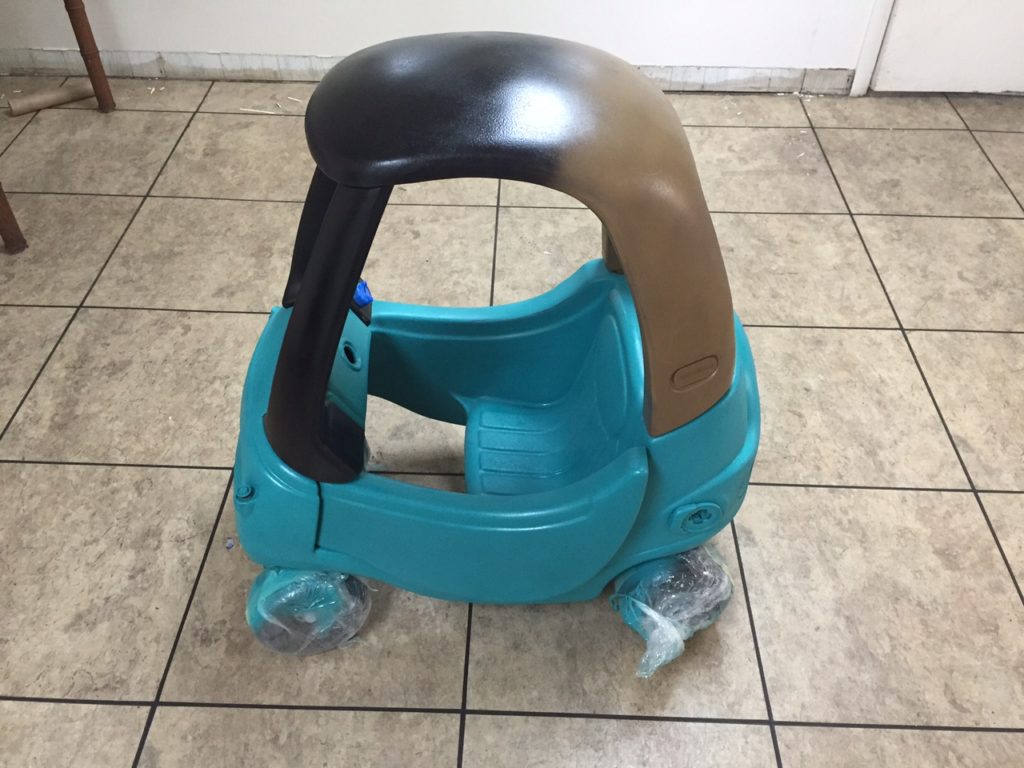 Looks good!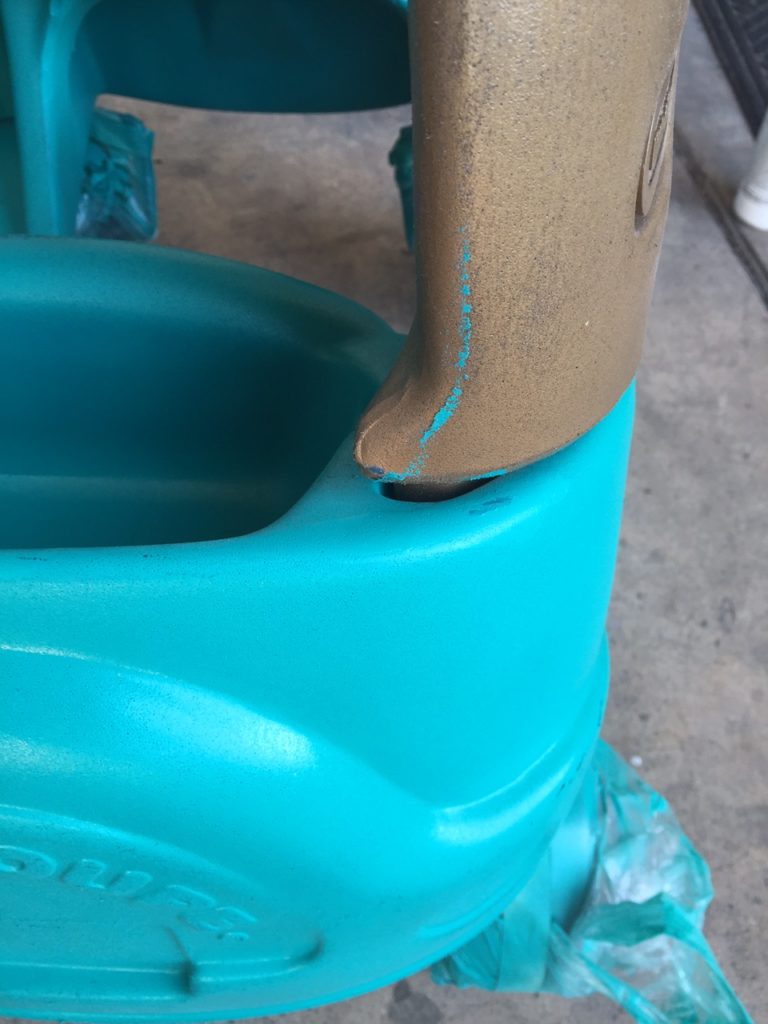 Uh oh…  We had some scratches with re-assembly.  These things were difficult to put back together!  Everything is forced into place and two screws hold it all together.  If you plan on doing this, expect plenty of rubbing and scratches.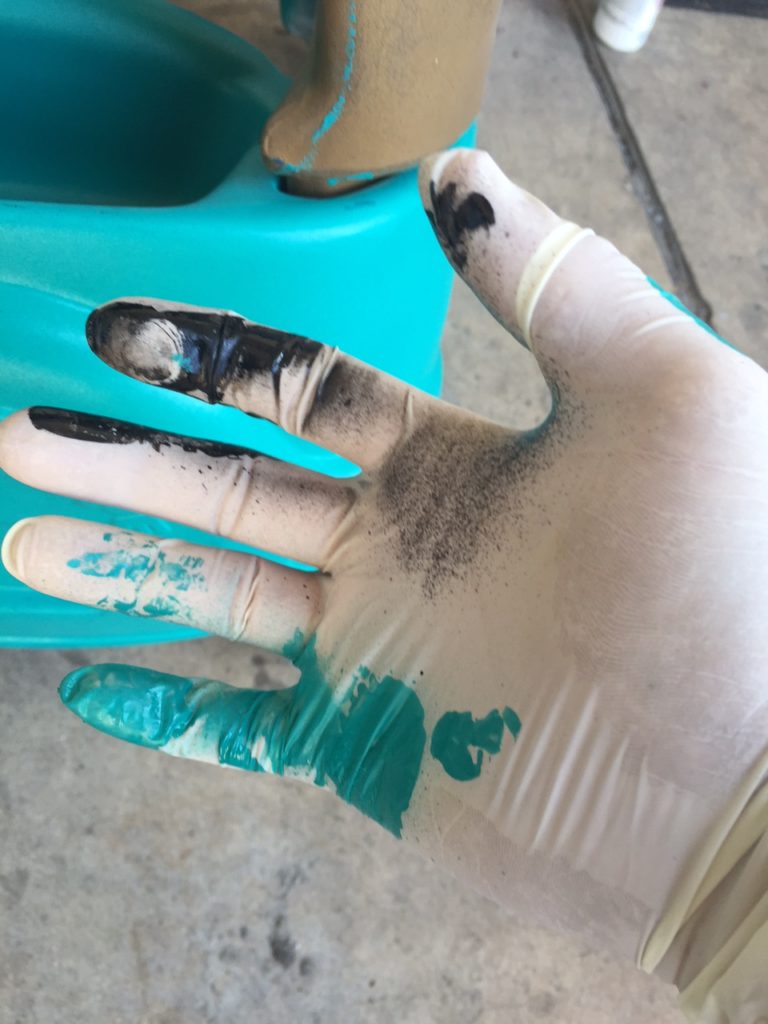 Easy fix, spray some paint on a glove and dab it on to clean it up.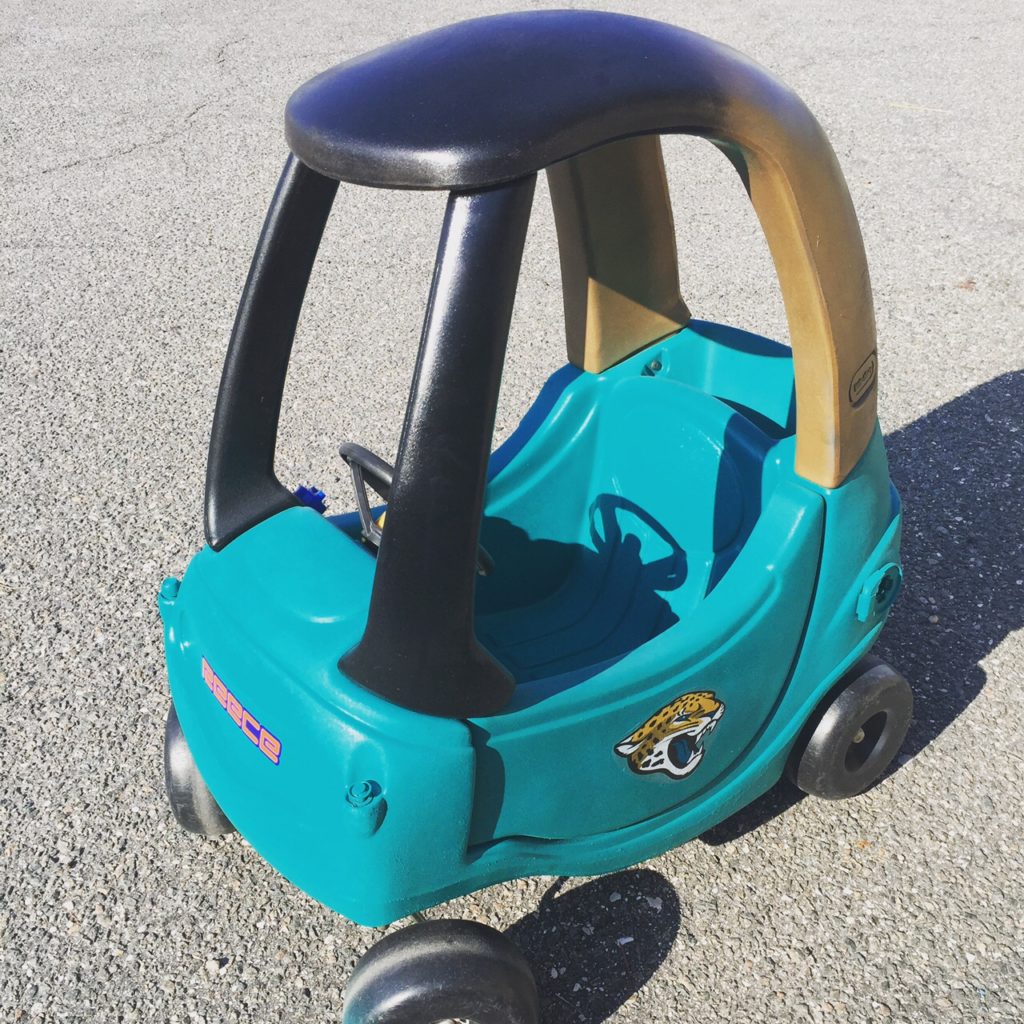 After final assembly, I was quite generous with coats of lacquer.  No, those are not painted, they are decals purchased off the internet.  To properly seal  the decals, you really need a smooth surface.  Lacquer, lacquer and more lacquer do the trick.  After the decals are added, more lacquer!
**UPDATE:  Be warned, I was quite pessimistic about painting High Density Poly-Ethylene (HDPE).  With enough iterations on the primer, paint and lacquer it turned out fine.  I was quite surprised how well this project has turned out an lasted.  I had to re-apply the decals but the paint itself has not chipped, peeled or shown any signs of wear.  Looks like a successful Cozy Coupe rebuild!