It's always a good idea to flush a hot water heater every six months and to clean it with a pipe brush.  As part of regular maintenance, you can extend the life of your storage water heater by years.  No joke, sediment and mineral deposits shorten the life of your heater elements, thermocouples and the tank itself by years.
This guide was created to teach people drain how water heaters of all kinds.  No need to call a plumber for this simple DIY job.  Keep in mind, there is no need to drain instantaneous water heaters – there is nothing to drain, except your savings account if you ever think it will stop.
Warning:  If you have not flushed your water heater for several years, your drain valve may clog from sediment at the bottom of the tank.  Be prepared with a spare valve, just in case.  Also, take precautions for a potential break that might cause flooding.  Keep several towels and a bucket nearby.  Never work on electricity or gas water heaters if you are unsure of your abilities and know what you are doing.
The first step to tackling any hot water heater problem is to turn off the electricity or, if gas fueled tanks, turn down the heat to only a pilot light.  Always test the power to be safe.
Materials Required
Garden hose
Wrench
Flathead screwdriver
Multimeter (if electric)
Spare drain valve (if current one is old or plastic)
Turn Off The Energy Source
If you have an electric water heater, it is probably on a dedicated circuit on your electric panel.  Locate your panel, and flip the breaker switch to "off".  Even if there is an in-line switch near the water heater, it's always a good idea to flip the breaker.
Once completed, test the wires with a voltmeter or multimeter where the electric wires meet the water heater.
For gas powered water heaters, you need to locate the control knob.  Make sure you turn it all the way down to the pilot light.  If you pilot light goes out, re-light it with a match or if there is a spark plug ignition, go ahead and press the button until it lights.
Turn Off Water Supply
Locate your water shut off valve that supplies your water heater.  It will be a on "cold" water line.  Once located, turn it to the off position.
Open A Faucet
The easiest (and quickest) way to drain your water heater is by opening your tub faucet to the "hot" position.  Anytime you drain a water heater, sediment inevitably flows through the pipes and can get stuck in flow restrictors like shower heads or sink faucet aerators.
Tub faucets do not have flow restrictors so any sediment will not cause you any clogging problems.  If you do not have a tub spigot, you can use another faucet, just make sure to remove the flow restrictor.
As you drain the water heater, periodically check the water to make sure it is still hot or warm so you aren't continuously draining cold water from your well or utility company.
Complete Empty
You will need to do a complete empty to flush a hot water heater.
Water heaters that have not had a complete drain in years, the drain valve may clog from sediment at the bottom of the tank.  Be prepared with a spare valve, just in case along with your bucket and towels.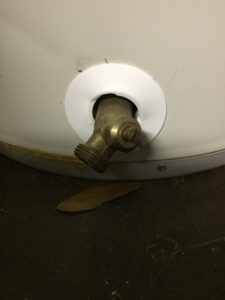 If your valve does not have a garden hose attachment, you are going to be stuck with your bucket and making trips to empty the bucket until the water heater is completely emptied.
The Flush
No it's time to flush the hot water heater.  Close the valve, turn on the supply water and let it fill for 2 – 3 gallons.  You will need to estimate this assuming ½" sch 40 PVC flows at approximately 14 gallons per minute and ¾" PVC flows at 23 gallons per minute.
You do not need to open the supply valve very long, preferably about 15 seconds.  After it is partially filled, shut off the supply valve and do another complete empty.  Do this 2 – 3 times and you will be good to go.
If at any time your drain valve gets clogged, try to loosen it with a coat hanger.  If that doesn't work, it's easier to just replace the drain valve entirely with a brass drain valve, and to prevent this problem in the future, opt for a ball valve so there is a wider opening for sediment to flow through.
While you are flushing your hot water heater, I highly recommend you take the opportunity to clean the sediment from the bottom of the tank.  It will greatly improve the longevity of your hot water heater.
Clean Your Hot Water Heater
Remove your threaded valve completely, after your last complete empty.  Use a wire brush or pipe brush and scrub the bottom of the tank as best you can to loosen any mineral buildup or sediment.  Re-install your drain valve and do one last flush.
Re-fill Your Water Heater
Open your tub faucet to allow flow of hot water.  This allows any trapped air in your tank to escape and then open your water supply valve.  Once filled, close your tub faucet and check your water heater for any leaks.  If you find any, take care of the leak as soon as possible.
You can now reset the power to the tank so it begins heating the water again, whether it's gas or electric.
Word of Note
If, for some reason, you cannot locate or find your water supply valve to your water heater (you should have one) it's OK to shut off the water from your curb valve or the entire water supply to your home.  You will end up wasting more water than needed, so it is always recommended to use your hot water heater valve when you flush it.