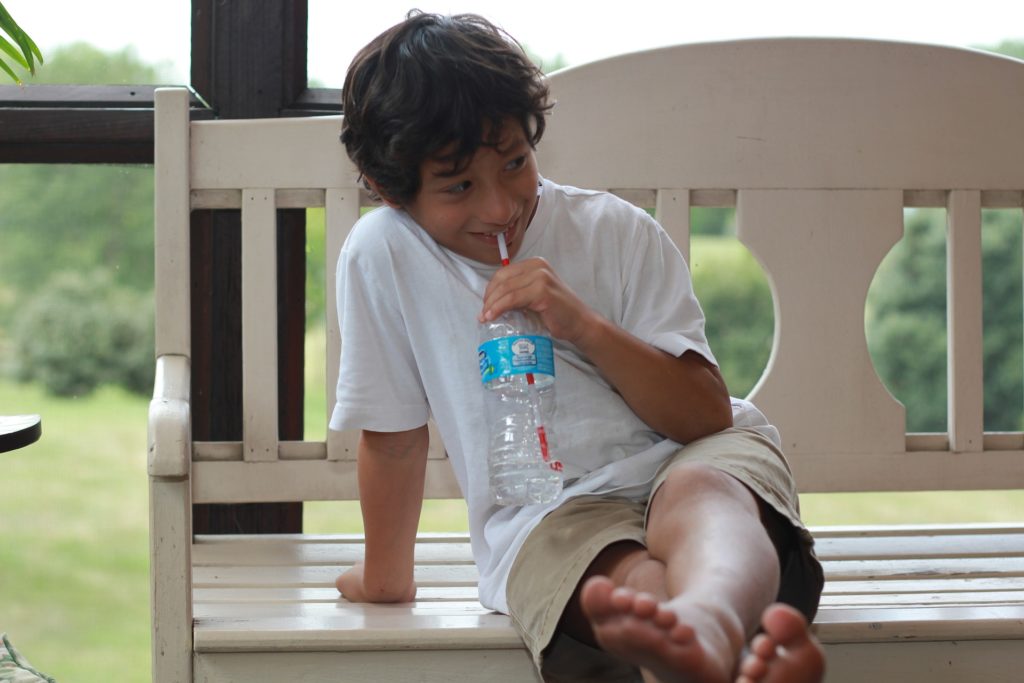 It's no surprise that the next great commodity shortage crisis is about the world's fresh water supply.  Hopefully everyone reading this is already familiar with the rain cycle and the lengthy filtration process to naturally produce groundwater.  The problem the world is facing is that with our growing population, the natural process of renewing groundwater can't keep up with growing demands.
It's common to hear of lawsuits between states or counties in the U.S. because whoever is upstream of a given fresh water source is taking too much, leaving the downstream party with less and less supply.
Over the last few decades, the U.S. just hasn't invested in the water infrastructure we need to prevent droughts in places that don't get the rainfall the rest of the country gets.  Sure, we can deliver water in tankers if there is an immediate crisis.  Bottled water can be bought in almost any store today!
But what happens in the long term, when aquifers that supply homes and bottling plants run dry?
That's the real crisis that is looming over future generations.  Oil is a massive part of our commercial lives and global trade around the world but the oil crisis of 1973 shook financial markets in every major country.  Humans can live without oil, though.
If worse comes to worst, we have an abundance of natural gas, solar energy, wind turbine energy and even dirty coal, if needed.  Even without these energy sources, humans relied on animals for transportation, growing crops and moving goods.  Shipping utilized the wind to cross oceans and even the world.  Those sources aren't going anywhere anytime soon.
Without water, though, humans cannot survive.  Without water, there is no agriculture.  We can't raise cows, pigs, chickens or other main food sources.  Without clean, fresh water the human race as we know it will end.
The problem has arisen in a unique way.  We are facing a problem no generation has seen before and that is the commoditization of a product that was in abundance and provided nearly for free.  Imagine how the world would react if we were faced with a shortage of breathing air.
Just as the case with water, corporations and governments around the world would use mechanical and chemical processes to clean the air and ensure just the right amount of oxygen and nitrogen, then package it and sell it just like bottles of water.
The only difference is, there is no perceived fresh air shortage, at least in the foreseeable future.
So, what does the future of freshwater hold for the citizens of the world?  More lawsuits and lots of them.  Look at places like Florida and Georgia.  These two states are in a legal battle over fresh water that typically flows through Georgia and ends in Florida.
Metropolitan areas like Atlanta have increased their water usage so much that it has negatively affected the state of Florida's supply.  So who is in the right?  Should Georgia be limited in their water intake?  Or does any water that flows through Georgia belong to them?
The answer is a firm maybe.  At least to the judicial system, anyway.  Courts have been hesitant to issue any definitive rulings, and instead are encouraging states to negotiate water rights on their own accord.  Whatever the result is will probably mean a compromise on both sides.
And then how the state distributes the fresh water supply to municipalities and commercial use will be a whole new legal battle as everyone fights for more water.  This the result of the commoditization of a natural resource that has little precedence of legal battles.
So I'm sure you are now asking yourself, "well ultimately, it doesn't really matter who wins the legal battles over the limited existing supply of fresh water, what really matters is how do we increase the existing supply of fresh water?"  And that is the premise of the impending global water crisis.
I know most of you visit PVCGuy.com for answers but unfortunately this problem is well above my pay-grade and well beyond my knowledge of economics on a global scale.  But I do have a few suggestions that might help…
As I have already stated, I am no economist but from my days in college I do recall two main ways of increasing supply.  The first is to decrease demand.  The second is to simply make more.
If we apply those principles to our freshwater management, we obviously need to make a proactive attempt to decrease our usage of water and to figure out ways to make more of it.  The easiest of these two options is obviously to use less fresh water.  Let's go over a few ways we can accomplish these goals.
From a residential perspective, it's important to make sure any leaking pipes, faucets or toilets are fixed as soon as possible.  According to the EPA, household leaks accounts for a loss of over 1 trillion gallons per year.  Additionally, these problems just get worse, never fix themselves and depreciate your property.  If you need help, hire a licensed professional.  Most of these fixes, however, are easily completed with minimal experience or tools.  See some of our tutorials or guides to learn more.
Outside of the house it's important to use your irrigation system wisely.  Never turn on your sprinklers during the day, as you will lose a majority of the water to evaporation from the sun.  It's best to irrigate in the morning, just before sunrise.  If you water your lawn at night your grass is more susceptible to fungus and other diseases.  Even better, plant drought resistant grass or xeriscape your lawn and disconnect your irrigation system.
It's also a good idea to install a rain sensor in case it rains the day before.  I have seen too many times where neighbors forgot to turn off the automated sprinkler schedule and watched as they watered their lawn as the rain fell.
Back inside your home, you can replace hardware.  Sinks and shower heads should have low flow faucets installed.  Faucet aerators can also give the appearance and feel of normal flowing water while using less amount.  Dual flush toilets are also a good idea to appropriately flush after going #1 or #2.  If you are willing to spend the big money, high efficiency washers are also a good idea that will help with your electric bill as well.  Same deal with older, inefficient dishwashers.
The last way residents can decrease water consumption is to change their habits.  Things like turning off the water to brush teeth, taking short showers instead of baths, or only  running full loads in the washer and dishwasher are effective ways of reducing water consumption.  However, don't take this too far for the sake of your personal hygiene.
The commercial, industrial and government sectors account for roughly 40% of the U.S. freshwater usage.  These are significantly harder to improve and increase efficiencies – not from a design perspective mind you, but from a capital perspective.  The factories, hydroelectric plants and public usage are somewhat inevitable to maintain our current standard of living.  That said, there are always ways to improve.
Now the second way to increase supply is to obviously make more of it.  The problem is, historically we have always relied on mother nature to provide us with relatively clean fresh water underground.  We are already well past the rate at which the natural ground water cleaning process can occur so humans have kindly already developed various ways to artificially create more fresh water.
The first and easiest method to create fresh, potable water is to purify surface water.  The complexes that purify surface water are aptly called "water treatment plants," (in a former life, I helped build these) which take river or lake water and send it through a complex and thorough cleaning process to be re-distributed to homeowners and anyone connected to city water.  The cleaning process is pivotal to prevent the spread of bacteria, disease and fecal matter to drinking water.
Next up is a water treatment plant fit to handle salt water.  These plants are called "desalination plants" and are expensive to operate.  They are the same thing as water treatment plants but have another step in the process to remove the salt.  That process could be accomplished with the use of specialized filters called "membranes" or ion exchange or even simply distillation.  There are a number of these plants already around the world and the designs are becoming more and more efficient.  These plants are probably the future of mass freshwater manufacturing.
Regardless of how hard you work to conserve water, you are simply a drop in the bucket. (Pun intended.)  We won't be able to accomplish anything, without everyone being on board with a plan and being conscious of the situation we currently face.
You might ask how to corral the world to start thinking like-minded to save our precious resource.  That's where things get really political.  Is government intervention needed?  Should we let the free market play itself out until people can no longer afford to waste water?  The answer is likely a combination effort.  Either of those solutions alone would cause a major disruption in the world economy and could be catastrophic.  The best thing to do is to educate people and hope people become more proactive about water conservation.