Globe valves originally derived their name due to the shape of the valve body.  They had two semi-spherical parts attached together to give it the appearance of a globe.  Today they do not look like that.  You can find globe valves on the exterior of your house where garden hoses can be attached.  Those spigots, also known as bibs or wall hydrants, are not always globe valves but typically are due to the needs of exterior gardening.  Unlike ball valves or gate valves, globe valves were designed for frequent use.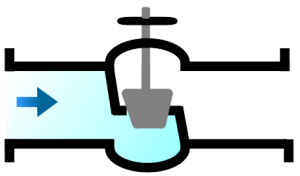 As the plug closes the flow inside the valve, you can see there is very little friction and abrasion to the plug itself.  In contrast most other valves revolve inside of the valve, potentially causing premature leakage from overuse.  In this design, the valve can be opened and closed frequently without damage to the plug.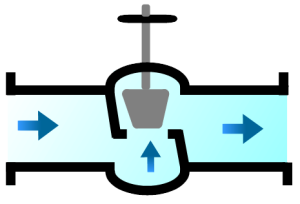 Not only is this design excellent for frequent use, it's also a great flow controller.  As the threaded stem makes incremental changes to the cross-sectional flow area, small changes in flow rate can be made.  As also discussed with gate valves, this can help prevent pipe hammers.  Two major problems with this design though are the friction loss and potential for leakage.  As you can see from the diagram above, the transition from upstream to downstream is not a smooth and straight flow.  It can cause a loss in flow rate and increase turbulence in the system.  That's commonly why these valves are found as open ended valves instead of being used as in-line valves.   Globe valves can also have issues with leakage through the stem or possibly even the plug itself but generally this can be attributed to poor craftsmanship over the design itself.