The PVC Guy Story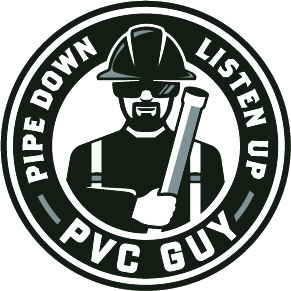 Freshman year in high school I was a B – C student.  I had no desire to work hard and earn good grades, I was one of those people that did just enough to stay just above average.  By the end of the year, my mom yanked me out of there and sent me to a new school where I ended up making better grades and excelling in classes like calculus and physics.
My SAT scores were a 720 in math and 580 in reading.  This was back when a perfect score on SATs was 1600.  Far from a genius, I clearly had a higher aptitude in math than my reading skills.  I managed to get accepted to the University of Florida with no clear path for my future.
I asked my dad what I should put own as my major on university forms and we sat down and discussed what I wanted to do for a career.  Having put literally zero thought into a career until this point, I told him I just wanted to make a lot of money and not work very hard. Unfortunately for me, that major and career path did not exist.
He asked me (already knowing the answers) which subjects I thrived in during high school.  My answer was simply physics and calculus.
"Perfect!  Let's look at engineering majors – did you enjoy chemistry?  Do you have any interest in magnetic fields or nuclear science?"
"Negative."
It literally took a whopping 5 minutes before I settled on civil engineering, a 4.5 year program.
Fast forward 4 years and I am at home, watching the Gators win the 2008 SEC championship with the future Mrs. PVC Guy.  I uncharacteristically picked up two minors in Business Administration and Sales Engineering.  But ironically, and very characteristically of me, I was too lazy to change my major to something easier.  But once again, I did just enough to get by.
I had flirted with the idea of changing my major to Building Construction.  Somewhere around junior year, it was a career path I could actually see myself following and something that really interested me.  But ultimately, I followed the advice from a vice president at a major design-build firm who told me to stick with civil engineering if I can handle it.  And so I did.
I graduated in 2010 after 5 years and 4 national championships in football and basketball and moved back home to work for my mother at a small business.  Your read that correctly, I did not even work one year as a civil engineer, nor even apply for a single civil engineering job.
Mrs. PVC Guy had moved back to my hometown in the hopes that I would pop the question.  I did.  We got a puppy and named him Sam.  We got married and rented a tiny house to save up enough to make a down payment on a house.
With housing prices still in the gutter, we found a gem.  It was a short sale from a "for sale, by owner" that we found through dumb luck.  We purchased the neglected house, hoping to make it inhabitable.  Most people would call it a fixer-upper, but we called it home.
Up until this point, I had little experience in construction and even less as a homeowner.  My internship for the design-build firm consisted of me sitting in a cubicle, calling subcontractors for quotes and bidding out work for new water treatment facilities.
I knew the difference between a jig saw and a circular saw but I didn't really know when to use them.  I didn't know what CPVC was or what a water softener did.  I didn't have the slightest clue how and irrigation system is designed or how it operates.  It wasn't until my first encounters with the "pros" until I decided that I need to learn this stuff myself.
Mrs. PVC Guy was a teacher and she actually had a higher salary than I did.  We could not afford 20% down or anywhere close to it.  Our only option for our first home was to apply for an FHA 203(k) loan since the house needed a new roof to close on the deal.  Water literally dripped through a collapsed ceiling and wall where termite damage had destroyed about 50 sq-ft of wall and rafter studs.
The first incident was the first professional on site.  He gave us a list of items that needed to be fixed by a licensed contractor in order to close on the home.  One of the few items noticeably void on the list was our HVAC system.  The Trane unit we had was 12 years old and it was a "workhorse that would probably last another 5 years."
Well, those 5 years didn't even last a week.  The cooling from the system didn't work at all.  I bid out the work to 5 different HVAC companies and went with the cheapest option for $5,000 – money we didn't have.  A big problem was the existing air handler was located in the attic, in a spot that was not within building code, complicating the install.  We literally had no money but had no choice, A/C in Florida is a necessity.
Shortly thereafter, a roofer fell through our roof, breaking shutters and drywall on the way down.  He walked away from it with nothing more than a small cut, but he managed to smear blood on the walls and ceiling on his way out.
Next was the tree guys.  I had a bad experience prior to closing with an unlicensed and uninsured guy who took down a tree on the cheap.  He tore up my lawn and wrecked my chain link fence but that was all relatively easy fixes.  Not wanting a repeat performance, I hired professionals to remove two dead trees overhanging the neighbor's house.
I was told if we did not take them down, we could be held liable for property damage and even personal damage!!  Great, just our luck.  We scraped together $2,400 and kissed all savings goodbye and paid the pros to take care of it.
I came home from work to find the trees gone, along with our garage window, gutter, sprinkler head and riser, and boxwood shrubs.  They felled the tree onto our patio and the other fence.  Luckily, they were quick to fix it, but it was pretty shoddy work.
The worst of all offenses, however, came from the HVAC company who had thrown in two complementary seasonal "tune ups" with our purchase.  I was at the doctor's office being treated for bronchitis when I got the call from my wife.
"Hey, how do you shut off the water to the entire house?"
"Uh, is everything OK?"
"No, the HVAC tech broke a pipe in the attic and he doesn't know how to shut off the water and the bathroom is flooding."
My heart sank.  Why me?  Why did I get the one tech who doesn't know how to turn off the water to the house?
I told her to just go straight to the valve from our city water and to shut it off, I left the doctor's office right after I hung up.
When I arrived, a neighbor had helped turn off the water.  I walked inside to see the damage, it was worse than I thought.  Every towel and bed sheet we owned was on the floor soaking up water.  It was dripping through the ceiling, through the lights, down the wall and puddling up on the brand new floor I had just put down myself.  Water was pouring out of our soffits outside.
The tech was too afraid to come down from the attic and rightly so.  I was furious.  I got on the phone with a manager, he arranged to have flood remediation come out immediately to our house, set up fans, and tear out drywall and insulation.  It was a disaster and we were relocated to the couch for two nights as our bedroom was affected as well.
A plumber came and fixed the broken ½" pipe and showed me the tech's attempt at fixing it, which he said "will last for now but will eventually need a plumber to fix it."
We eventually had it straightened out and I decided it was time to be more proactive and knowledgeable about an asset that equated to my net worth, which was just about 3% of the home value.  All of these terrible incidents happened within a year of our purchase, a flurry of disasters, one after another.
I started tinkering, reading articles, watching YouTube videos and working on projects with my father-in-law.  I was learning electrical work, plumbing, irrigation, framing, siding, windows, anything and everything I could learn about my house so that I could be an informed homeowner.
I couldn't have prevented the HVAC tech from breaking a pipe in the attic or the tree guys from falling a tree onto my patio and garage.  But I could have assessed the HVAC system instead of relying on the inspector.  I could have informed the roofer about a weak spot in the roof.
I have learned that being a homeowner entails you take ownership of your domain.  That includes the structure, the maintenance, knowing every crook and cranny in the entire place.
Through my research and doing projects, I decided working on the plumbing and irrigation was my favorite job. It is definitely a love/hate relationship.  It's frustrating because everything wrong with the irrigation happens during the summer when it's the hottest and our hot water seems to fail in the winter, but that's only to be expected with PVC Guy luck.
What's so great about PVC, is you can't electrocute yourself by touching the wrong pipe or try to quantify how much cold air is flowing through a vent.  Plumbing caught my eye, and specifically PVC plumbing.  Since I made the commitment to do as much maintenance DIY as possible, I have used PVC everywhere from my siding to the garden to trim work in the house.  Its versatility and lack of awareness of its versatility is what motivated me to build this website and share with the world how great PVC can be and how easy it is to care for your home.
Check out my most recent project, a remodel of our kitchen!
Thank you for your support, and I hope you find this website valuable!