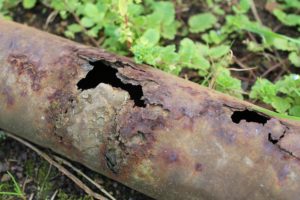 The buildup of minerals and corrosion is not only unsightly but it can cause real problems for your plumbing system.  The three biggies for pipe build up are the dreaded calcium, lime and rust.  If you have hard water then you definitely need to be concerned about limescale.
Limescale is the build up of a chalky white substance inside of your pipes can can slow down your water flow and put undue stress on your appliances.  It can reduce your water pressure, contribute to scum in your sinks and destroy your hot water heater.
There is a lot of confusion between the difference of calcium and lime in water lines and I'm not sure how the confusion got started but I am here to clarify the mystery to you all.  In regards to plumbing, lime and calcium are the same thing.
Lime deposits, or limescale, is a buildup of calcium bicarbonate (same stuff that makes up white chalk) which attaches itself to pipe wall imperfections. Over time, these build ups spread around the pipe circumference and down the length of the pipe causing issues throughout your entire plumbing system.
Limescale is a major problem for the majority of the U.S., particularly in the Midwest and Southwest.  Anyone that uses groundwater will probably have "hard water" which is a term used for water rich in calcium and magnesium.  "Soft water" has very little of these minerals.  For the reasons stated above, if you have really hard water it's a good idea to have a water softener installed in your home.
Worst of all, these minerals actually coagulate with your soaps to create a film that sticks to your tub and even to clothes.  It even makes your dishes more spotty than with soft water after a cycle in the dishwasher.
Rust, on the other hand, is quite the opposite of limescale.  Instead of a buildup, rust is generally a breakdown of iron or steel pipes somewhere in your plumbing system.  Iron can actually occur naturally in your water which can rust in your water.  It's chemical name is iron oxide which is formed from the presence of iron, water and oxygen. Without all three, there will be no rust formation.
While rusty or brown colored water is unsightly and may stain your sink or clothing, it's not unsafe to drink unless you have a rare health condition.
Unfortunately, most water systems with rust cannot be easily treated.  Many instances of rusty water occurs in large cities where the municipal utilities may be over 100 years old causing the rusty color before it even reaches your house.
If the rustiness IS coming from your house plumbing, your only option is to replace your ferrous piping.  Not that we are biased…. But PVC doesn't rust if you do decide to go this route!!  PVC is susceptible to limescale though.
Many times you can get temporary, rusty colored water if there is a sudden change in plumbing flow.  If the city is doing work on the utility lines or if a fire hydrant is used or tested it could cause bits of iron or steel to dislodge and introduce rust into the system.
While none of these scary minerals are harmful for your health, they can certainly be catastrophic for your appliances.  Coffeemakers and espresso machines are notorious for their fickleness using hard water.  The mineral buildup is accelerated because of the small internal pipes used to pump water into the heating elements.
Hot water heaters are another major problem appliance for limescale.  The high temperature from the heater destabilizes calcium bicarbonate in water, aiding in its conversion into calcium carbonate that sticks to pipe walls.
Rust can affect any of the appliances where the water is in contact with other ferrous metals but the largest complaint from rust comes from the poor soul that does the laundry in the family.  This frustrating problem causes staining which is nearly impossible to remove on clothing.  If you do run into a problem with rusty colored clothes from the water, just make sure not to put them in the dryer.  The heat will make is impossible to clean again.  There are some commercial products available and some natural home remedies you can find on the internet.
So the million dollar question is what to do about these minerals found in your water and how to save your appliances.  There are a few things you can do to save your home!
The single best preventative solution you can do is to install a water softener.  This equipment is not cheap and can take up a closet space or even a large chunk of your garage.  However, the big problem is it needs to be located near the water source that lead to your home which limits your options.  Alternatively, you could always re-route your house main line to accommodate but that doesn't make your job any easier.
These systems can cost several hundred dollars to several thousand dollars depending on your water consumption and the system you need.  But if you do get one installed, it will increase the life of your appliances, especially your hot water heater, and actually make them more efficient and making your bathrooms easier to clean.
The general concept of a water softener is that hard water enters a tank filled with beads that have an electrical charge much like static electricity.  As the minerals in the water pass through the beads, the calcium and magnesium molecules are stripped from the water and attach to the beads, with the end result being soft water.  (Think of hair sticking to a balloon after rubbing one's head.)
These molecules will just build up in this tank causing the problem to be concentrated in the original tank.  To solve this problem, common salt is added to another tank to create a brine solution. This brine solution is the third step in a three phase process that involves the sodium ions carrying out the calcium and magnesium molecules out of the system to be drained into the sanitary waste line.  This process is called "ion exchange."  Simply put, you replace the minerals in your water with common salt (sodium chloride), which needs to be periodically added to your brine tank.  For those with strict sodium intake diets can also find tanks that use potassium chloride, however the cost is considerably higher.
As for rusty water, your options are quite limited.  As stated earlier, your best bet is pipe replacement.  Pipe replacement can be prohibitively expensive so many consumers turn towards alternative methods to remedy problem.  Many professional plumbers have concentrated chemicals that can be run through your system with moderate results.  It can also require multiple flushes and may not work completely or at all if the rust is coming from the utilities.
Scrubbing with pipe cleaner can be effective but it is difficult to do a thorough cleaning of the entire system.  Whatever you do, avoid consumer marketed DIY products, you will be wasting your time and money and, most importantly, could be dangerous if you do it wrong.
If the rust is originating from rust sediment somewhere in your pipes at home, you can simply flush the system at maximum pressure for an extended period of time.  Open a bathtub faucet and 2 others from sinks if you have them and let them run for 15 minutes.  If that does not work, try it again until the sediment clears.  If you are able to pinpoint the exact area of the sediment you can simply cut out that length of pipe to drain and then replace it with an in-line connection.
Anytime you flush your plumbing system at home, limescale or rust sediment can cause a problem for any aerated sink faucets or shower heads that cannot clear larger objects.  If this happens, remove affected aerators and shower heads and put them in a vinegar bath overnight.  Vinegar is effective at dissolving both limescale and rust.
When it comes to limescale for those you with hard water, vinegar is your best friend.  It can be used in numerous cleaning applications in the bathroom and kitchen but most importantly it can prevent build up in your smaller appliances that require tap water.
It is a good idea to run a mix of vinegar and water at a 1:1 ratio through your keurigs or cuisinart coffeemakers every six months.  Then flush the system out with water to get rid of that vinegar taste.  When you flush the vinegar, save it in a bowl and soak all of the aerators from your faucets overnight.
Take care of your plumbing system and it will take care of you and your wallet.  If you do decide to install a water softener, the benefits are real and you will see their effects immediately.  You will have less soap scum in your baths, cleaner water and even your water will boil.  Just make sure you have the space to install it before you buy one!